1. December Species
Our species of the month is our most popular selling evergreen species
Cherry Laurel
. Cherry Laurel is part of the Laurel family and it is a lovely evergreen plant that is perfect for hedging due to it's big and dense leaves. Cherry Laurel produces modest white flowers in spring and red berries in autumn, but both are insignificant and really it is chosen for its vibrant foliage. Cherry Laurel cell grown and pot grown plants are available all year round. Bare roots are only available from November to late April/early May. Root Balls are available from mid-October to mid-April. Cherry Laurel growth rate is relatively fast at approx 30/60cm which makes it a very economical way to achieve a good height of evergreen hedge. It should be trimmed to shape in Spring or Autumn. Laurel is hardy and is very easy to grow, including in dense shade, but is not the most suitable choice for seaside gardens or very alkaline soil.
Meet our laurel family…
2. Gardening Advice
It is the perfect time to be planting your
root ball
hedging and to continue planting
bare roots
too. Make sure you are protecting these with rabbit guards and we also advise that you stick a few extra layers on when heading outside! For the deciduous trees, shrubs and hedges in your garden, this dormant season is the time to start pruning and renovating as it is easier to see what you are doing when the branches have no leaves. Suitable examples are:
Fagus (
beech)
,
Corylus
(hazel).
Ensure any pruning of
Acer
and
Betula
is completed before the end of the year to avoid bleeding of sap from cuts. Exceptions to this are evergreens and tender plants as these are best left until spring.
Prunus
species like
ornamental cherries
for example are vulnerable to silver leaf disease when pruned in autumn or winter, so should also be left until the spring. Info taken from
RHS.com
3. Gardening Design
Well of course this month we are obsessing over all things Christmas! Here is some inspiration for some Christmas display ideas you can try in the garden this month…
4. Events
5. Impact Plants Story Of The Month
Wrexham volunteers hide 850 knitted angels around town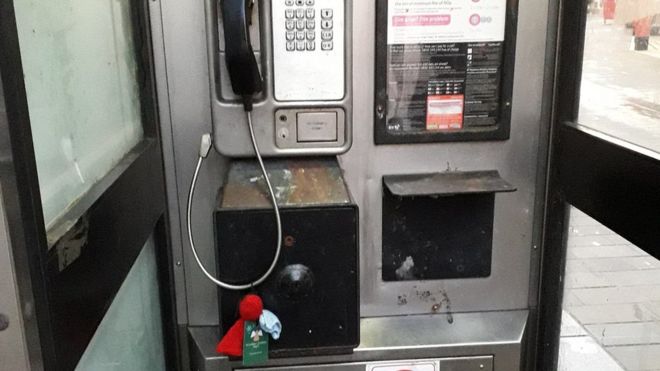 Hundreds of knitted angels have been hidden around a town to help spread festive cheer.
Volunteers with Wrexham's Salvation Army hand knitted more than 800 angels over a number of months. On Friday, the team set about tying the angels to benches, park railings, shop doors and even phone boxes around the town. On the project's Facebook page, people
shared pictures of finding the angels
and some said it had "made" their day. Sarah Ellis said: "My son found this one on the Long Pull. What a fantastic idea." Karen Jones commented: "Found one… very touched thank you."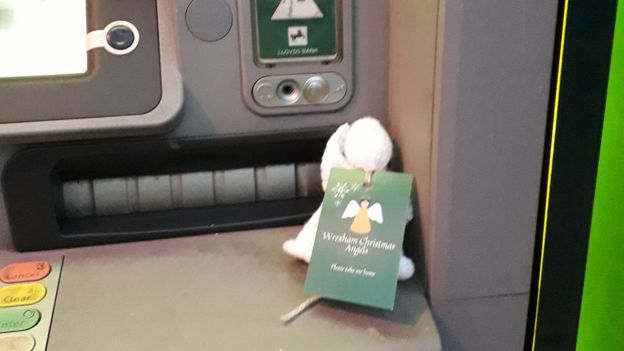 And Emma-Leigh Britland added: "Found one at [the] bus station, honestly made my day." Each angel has a Christmas blessing attached. Peter Jones, a member of the church, knitted over 100 of the angels and supported in placing them around the town.
He said: "I wanted to take part in something that would help others and potentially make a difference to lives. "People may feel low going into their place of work or they may just want a boost. "Even if these angels only bring comfort to the lives of a few, it will have been worth it to know someone in need, in whatever way, has been supported."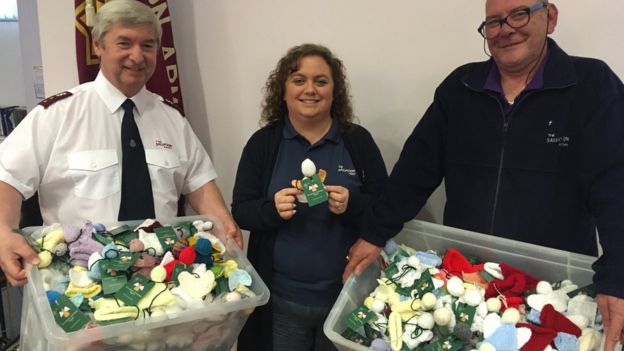 Community manager Karen Edwards said: "You never know what someone is going through and when they might need a little encouragement to see that there is hope, even at the toughest of times. "Christmas is a particularly difficult time for many and by tying the angels to key parts of the town it means that we can reach people who may be isolated and vulnerable or those that just want to enjoy in a bit of festive cheer." story taken from
BBC