1. February Species
Our plant of the month is evergreen shrub Choisya Ternata 'Sundance' also known as Golden Mexican Orange Blossom. This brightly coloured shrubs is the same in all respects as the green version (Mexican Orangle Blossom) but with bright yellow foliage, is fantastic for bringing some metaphorical sunshine into your planting scheme!
An evergreen shrub too gives it year long interest and looks great in your gardens this time of year. It also looks great with snow on!
2. Gardening Advice
Now is a great time to think about planting a hedge. Planting hedges now means the shrubs will get established during the less stressful conditions during the cool season. Newly planted hardy shrubs will not be bothered by winter freezes. The most affordable way to plant a hedge is by purchasing bare roots (which we happen to have a few off!). As we are still in dormant season, this is the best time to be looking at getting your hedge in time before they cannot be lifted. View our full range of bare root plants here.
Why not go for a discount mixed native hedging pack? Our recommended mix for bare root native hedging is 50% Hawthorn or Blackthorn (choose Blackthorn for heavy soils or coastal/windy positions and Hawthorn for all others) with 10% each of Wild Cherry, Field Maple, Dog Rose, Hazel and either Hawthorn or Blackthorn (the opposite to the main component). These species have been selected to provide a long period of interest for humans (in flower, berries, leaf colour, leaf shape) as well as varying wildlife foods and shelter.
Many people think that pruning is more for aesthetic but pruning is crucial in allowing the production of fruit and blooms. Many summer-flowering deciduous shrubs can be pruned between February and March; usually those that flower on the current year's growth. Delay pruning spring-flowering shrubs until immediately after flowering, otherwise this year's display will be lost. Do not prune slightly tender evergreen shrubs (such as Choisya, best left until April), but do tackle hardier examples (such as Prunus laurocerasus, cherry laurel), if necessary.
Other bits & bobs….
Put rabbit guards around newly planted trees and shrubs to protect the bark.
Inspect sick looking box and holly trees for signs of box blight and holly leaf blight.
Prune Winter Flowering Jasmine (Jasminum nudiflorum) after flowering to encourage new growth for next year's blooms. Cut back the previous years growth to 5cm from the old wood.
Hardwood cuttings taken last year may need planting or potting on now.
Trim deciduous  before the birds start nesting.
3. Garden Design
Make sure you plant some flowering hedging shrubs that will blossom in summer but also provide some colour come the winter months, its pays to plant in advance. Planting colourful foliage will provide year round interest and you can watch your plants change with the seasons. 
If you are looking to add colour to your garden that will last all summer long, read this interesting article on Perennial Flowers and the best ones to plant if you are looking for blooms all summer.
4. Events
5. Impact Plants Story Of The Month
Animal sanctuary in Rickmansworth provides perfect 'therapy'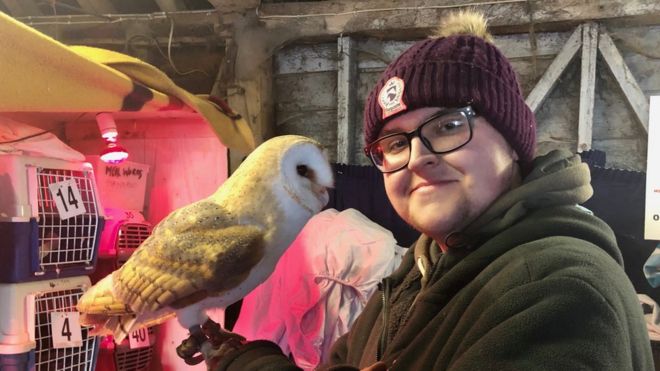 Caring for sick animals has been the perfect "therapy" for a young severely bullied man with schizophrenia, his father has said.
Chris Wicks said co-running CW Wildlife Rescue, in Rickmansworth, Hertfordshire, had made 23-year-old Harry Wicks "happy" at last.
The former van driver said animals had always cheered up his son, who is bi-polar and has learning difficulties.
Mr Wicks Jr said: "I wake up every morning with a smile on my face."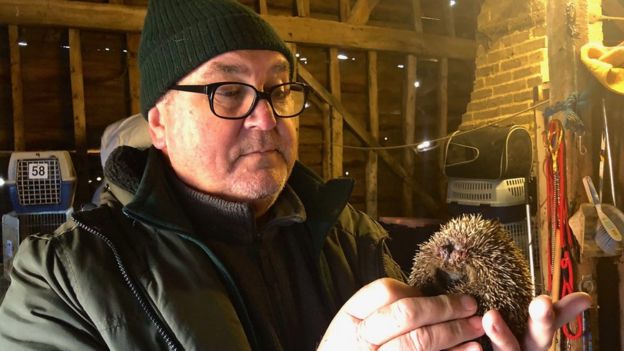 As reported in the Watford Observer, Mr Wicks Snr, 64, started the non-profit rescue organisation three years ago in his garden shed at his home in Heston, west London.
He decided to move to more spacious accommodation at a rented barn at Stockers Farm as there were "incubators in the bedroom".
He said his son had been severely bullied from the age of 14 and had been suicidal.
He has Klinefelter syndrome, a genetic disorder that can cause learning difficulties, and would say his life was like "living in a black tube with no light in it and someone was putting a lid on the top", his father said.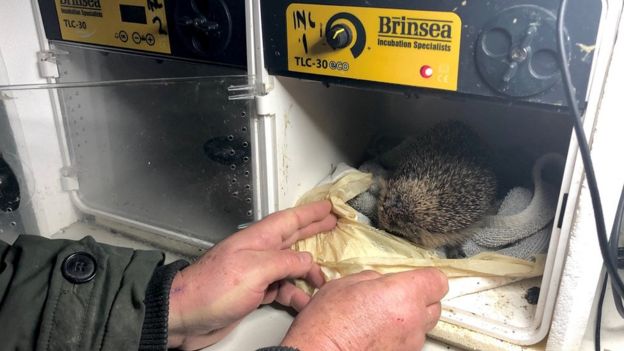 His life was now "under control", his father added.
"Whenever he gets on a big downer, he always gets a big cuddle. We bring him straight down to the animals and it always cheers him up," he said.
The pair are currently looking after about 30 different species, including hedgehogs, owls and swans.
Mr Wicks Jnr said: "It's just a magical place; it's heaven for me.
"The bullies at school said I would never get a job; I would never be happy, I would never have a family,
"I have a job; I have a fiancée. I am so happy."
His father said: "The warmest glow I get is when I know how well he is now. He's a happy lad.
"Being with the animals has been our own therapy. Animals needs you, so it's the perfect diversion."