1. July Species
To bring some colour after a very rainy and miserable July, our species of the month is the lovely and bright Rhododendron. Popularly planted for their spectacular display of flowers, Rhododendrons are suited to most planting sites, preferring dappled shade. Rhododendron is a genus of shrubs and small to (rarely) large trees, the smallest species growing to 10–100 cm (4–40 in) tall.The leaves are spirally arranged and they may be either evergreen or deciduous. In some species, the undersides of the leaves are covered with scales (lepidote) or hairs (indumentum).
Some of the best known species are noted for their many clusters of large flowers. There are alpine species with small flowers and small leaves, and tropical species such as section Vireya that often grow as epiphytes. 
How To Plant Rhododenrons
Plant in October or March/April
Before planting, dig-in plenty of neutral or acidic organic matter: composted tree bark, leafmould, decomposing pine or spruce needles, or composted chopped bracken. Avoid simply lining the planting hole; mix well into the soil
Do not plant too deeply – all rhododendrons are surface-rooting and the roots should be just covered
Apply at least an 8cm (3in) mulch of chipped conifer bark or other acidic material. The mulch should be well-aerated, not packed or firmed down
Renew or replenish the mulch each spring when the soil is still moist
info taken from RHS
2. Gardening Advice
Pruning and training
Prune June-flowering shrubs such as Philadelphus and Weigela after flowering. Prune deciduous magnolias if necessary. Fast-growing hedges such as Leyland cypress should be clipped as necessary throughout the growing season.
Tie-in climbers and ramblers as they grow.
General maintenance
Look out for tall, flowering stalks on established bamboos and remove them promptly. Flowering can weaken the plants, as well as being unsightly.
Ensure newly planted trees and shrubs do not dry out. They often need much more water than people imagine. Remove rose suckers and tree suckers.
info taken from RHS
3. Garden Design
4. Events
5. Impact Plants Story Of The Month
Divers Set World Record For Cleaning Trash From Ocean Floor
More than 600 scuba divers set a new world record by scooping up trash from the ocean floor on Saturday.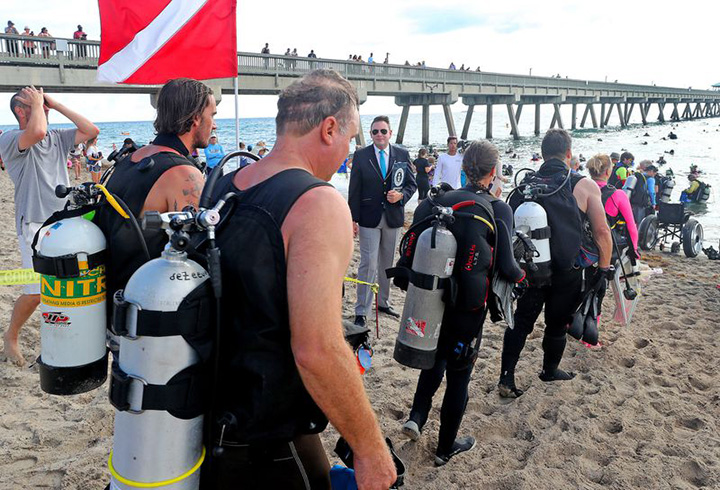 633 divers picked up litter from the sea floor near the Deerfield Beach International Fishing Pier in Florida.
The record was overseen by Guinness officiator Michael Empric, who flew from New York to do the official head count.
Divers had to stay in the water for at least 15 minutes to count towards the record.
It is still not known exactly how much trash was collected, the Sun Sentinel reports. But diver and environmentalist RJ Harper reported that divers collected 1,600 pounds of lead fishing weights alone.
"Obviously, trash was collected, but the beauty of it is with 633 divers, we were able to do a very thorough cleaning," Harper told the news outlet.
The previous record for the most divers taking part in an underwater cleanup was 614, in a dive organized in the Red Sea in Egypt in 2015.
"It doesn't matter what happens today with the Guinness World Records," said Empric. "What really matters is that everyone is out there cleaning up around the pier and trying to improve the community."
Taken from sunnyskyz.com