1. September Species
Our species of the month is the Berberis Hedging plant. The Berberis family is home to a variation of colour and uses, making it an ideal plant for every gardeners needs.
Berberis ottawensis x Auricoma is hardy and grows well in virtually any soil, including seaside gardens. This variety has vivid red leaves through spring and summer, with a fiery display in autumn, before losing its leaves for winter. It also has orange berries in the spring.
Berberis thunbergii atropurpurea has purple leaves. Prince Charlies has a Purple Berberis hedge in one of the garden rooms at Highgrove! Berberis thunbergii atropupurpurea is deciduous and boasts yellow flowers in spring and orange fruits adorn their branches in late autumn
Berberis Darwinii has bunches of orange/yellow nodding flowers held on red stems in spring and small dark green prickly leaves (like tiny Holly leaves). There is a bonus of blue/purple autumn berries and sometimes a second flush of flowers.
Berberis Julianae (Wintergreen Barberry) has an upright form and is fast growing so it quickly forms a dense hedge. The leaves are dark green and glossy, it has plenty of yellow flowers in spring and black/blue fruits in autumn.
Berberis x stenophylla is an evergreen barberry and has small dark green leathery leaves held on graceful arching branches. In spring, the fragrant cup shaped yellow flowers smother the stems and in autumn there are plentiful blue/black berries, which are attractive to birds

Berberis Thunbergii has green leaves and is deciduous. It boasts orange flowers in spring and red, jewel like fruits drip from its branches in late autumn. They are tough, easy to grow hedging plants which do well in virtually any soil and situation including coastal, though they do like sun or partial shade.

Berberis thunbergii 'Rose Glow', held on arching branches, is initially purple, then developing pink, cream and silver variegation which last all summer before the autumn foliage turns glowing red before dropping (both are deciduous).
2. Gardening Advice
The change in seasons also brings a change in the garden, music to our ears! We are over plants looking wiltered and brown lawns, time for a fresh change.
With the change the seasons our advice for the month is- prepare! Now is the best time to move any trees or shrubs to their new homes in the garden.  Doing this now allows the plants to settle in and recover from any trauma before the harsher winter conditions set in.
It is also a good time to prepare your soil for the new planting season. We recommend using Topsoil. This is the ideal, easy solution to improving your soil ready for new plantings. Topsoil is a specially selected, graded product and, as the name suggests, is the top layer of the soil – the upper 2-8 inches to be more precise. This section of the soil plays an important role when planting new hedges and shrubs as it supplies the bulk of the nutrients and it's where the majority of growth takes place for the first few growing seasons.
Another method is to add well-rotted organic matter such as compost or manure to your soil is both a traditional and effective way to improve your soil. You can start by improving the texture, digging into the soil and breaking up any large lumps which will be helpful to the root systems of new plants trying to establish. You can then dig in about half a wheel-barrow full of organic matter, ensuring as you dig back over you are making sure it's fully incorporated into your soil.
3. Garden Design
Stuck in a Summer slump? We're loving purple Autumnal shades at the minute, purple tones give your garden a fresh welcoming look and still give of bright tones on even the dullest of days. The color purple has a variety of effects on the mind and body, including uplifting spirits, calming the mind and nerves, enhancing the sacred, creating feelings of spirituality, increasing nurturing tendencies and sensitivity, and encouraging imagination and creativity. Take a look at how you can add purple into your gardens this month…
4. Events
Looking for stuff to do in September? With the last of the Summer festivals coming to an end and last minute escapes to the sun being squeezed in before the kids head back to school, September can be quite hectic! There's lots going on to get involved in, here are some of our favourite events for this month…
5. Impact Plants Story for the month
Woman Opens Her Home To 97 Stray Dogs As Hurricane Dorian Strikes The Bahamas
September 3, 2019
As Hurricane Dorian continues to pummel the Bahamas, one woman is rounding up as many stray dogs as she can fit in her home.
A total of 97 dogs were taken indoors.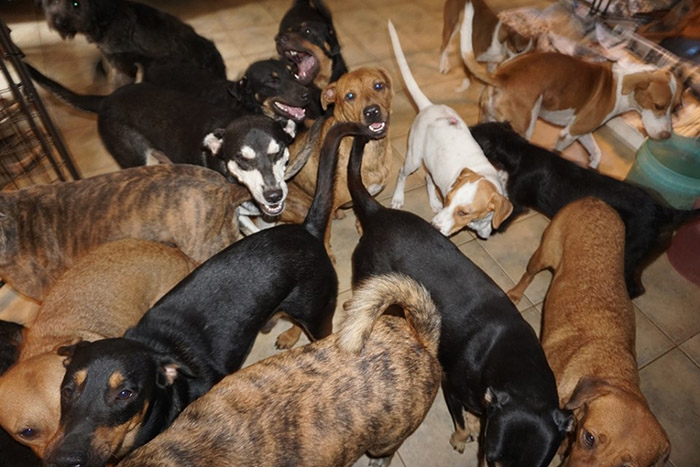 Credit: Chella Phillips
Chella Phillips operates a rescue called The Voiceless Dogs Of Nassau, Bahamas. Chella is not an official rescue shelter or organization, she is not affiliated to the Humane Society and she doesn't receive any kind of help from the government.
It is just her and her love for the homeless dogs of Nassau.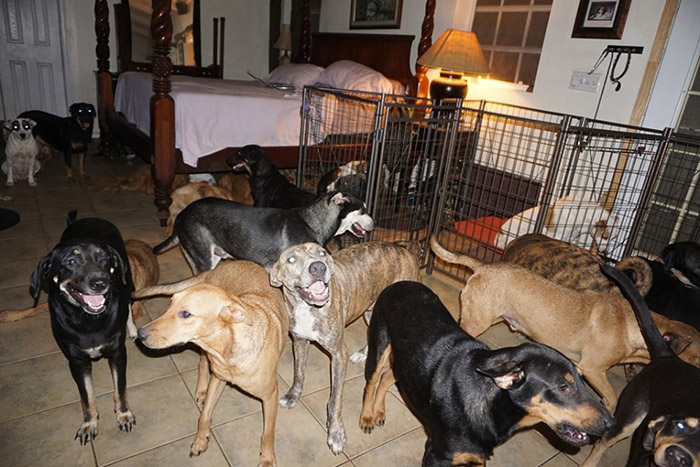 Credit: Chella Phillips
Phillips posted: "97 dogs are inside my house and 79 of them are inside my master bedroom. It has been insane since last night, poop and piss non stop but at least they are respecting my bed and nobody has dared to jump in. We have barricaded the refuge and nobody is outside, the music is playing in all directions of the house and the AC is blowing for them."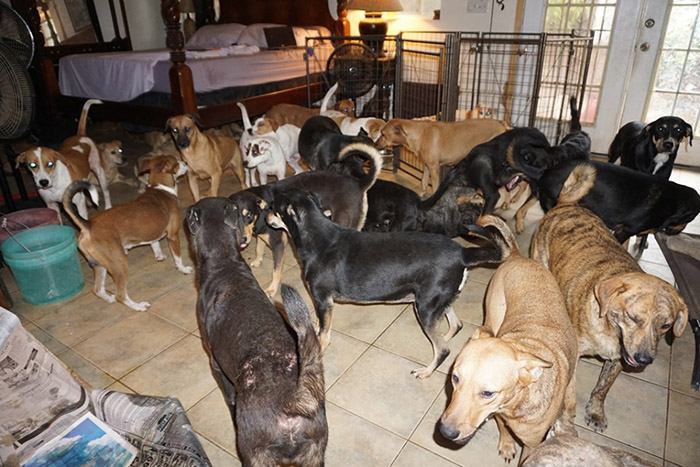 Credit: Chella Phillips
She continued: "I managed to bring some less fortunate ones and I really appreciate some of you donating for crates.. I really needed it for the scared ones and the sick ones. So Thank you!
We may not get hit as hard as other islands and the saddest part is that after the hurricane leave the Bahamas, some islands will take a long time to recover.. Each island has abundance of homeless dogs, my heart is so broken for the ones without a place to hide a CAT 5 monster and only God can protect them now.
Thank you for thinking of us and praying for us."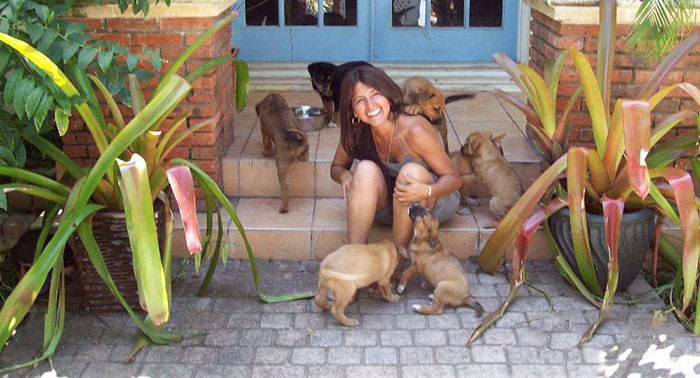 Credit: Chella Phillips
Since her post went viral, Phillips has been receiving donations from people all over the world.
Story taken from sunnyskyz.com